Your gift MATCHED for #GivingTuesday!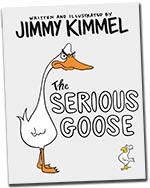 Support Children's Hospital Los Angeles with a gift by midnight on #GivingTuesday and your gift will provide 2X the lifesaving care for kids, thanks to a generous match from an anonymous donor.
For every gift of $27 or more made today, a signed copy of Jimmy Kimmel's new children's book, "The Serious Goose," will be donated to a child receiving care at CHLA. Please give generously.