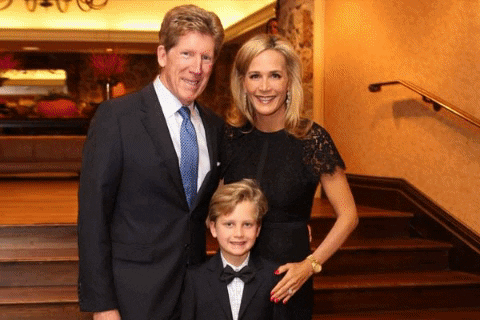 It is my honor to Chair an incredible campaign to raise $5M for the Cardiovascular Research Endowment for The Heart Institute at Children's Hospital Los Angeles. I launched this initiative a few years ago together with Dr. Vaughn Starnes, Paul Viviano and Jeff Worthe, now Chair of the Board of Directors. I am excited to continue to lead this effort to support the amazing specialized cardiac surgeons, nurses, care specialists, researchers, and scientists who are making an enormous difference in the outcome of all pediatric patients that come through their doors.
As many are aware, Dr. Vaughn Starnes, Pediatric Cardiothoracic Surgeon of Children's Hospital Los Angeles, successfully cared for my son, Pearson, in 2009. He has saved thousands of lives since then and his research team continues to work to develop innovative medicine to bring to the surgery suite for various needs of their heart patients. One example of cutting-edge research that they are developing is the advancement of using patient stem cells and implantation for the purpose of creating regenerative tissue. This new medical approach to building regenerative tissue can be used to grow structures like heart valves that will allow the patient's new valve to grow with them into adulthood versus the current practice of implanting animal valves that do not grow with the child. In addition to these pioneering initiatives, Dr. Cynthia Herrington, Cardiovascular surgeon, is performing heart transplants at Cihldren's Hospital Los Angeles. She performed the first ever dextrocardia transplant, the most complex surgery of her career. Together with colleagues at CHLA and USC, she has designed artificial right atrium to enable surgeons to put patients on bi-ventricular mechanic assist. These discoveries will greatly benefit our future pediatric heart patients and will improve their long term outcomes.
YOUR GIFT will enable the Cardiovascular Research Group to continue their vital groundwork that will be translated into saving precious lives.
This gift is fully TAX-Deductible.
If you have questions regarding this campaign, or would like to get involved in fundraising, please contact Melissa DoVale, Associate Senior VP of Development at 323-361-1706.
Most Sincerely,

Nancy Caroline Meidel
Chair of the Cardiovascular Research Endowment Fund for the Heart Institute at CHLA
CHLA Foundation Board Member, 2018- present


To learn more about the incredible work of The Heart Institute, watch this:
Heart Institute Video
To learn about Jimmy Kimmel's experience in the Heart Institute, click here:
Jimmy Kimmel's Story
View More