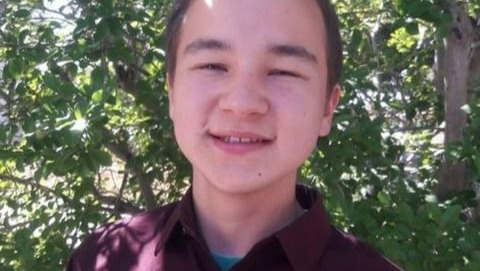 Dear Friends,
My name is Zen and I am 17 years old. When my parents first heard the news that I had cancer, they were devastated. They didn't know what to do, felt helpless and unsure about whether I would survive. The odds were not in my favor. I was diagnosed in 2008 and treated at Children's Hospital of Los Angeles. I'm quite fortunate because if I had been diagnosed only a few decades earlier, I would not have survived.
The technological advancements, the efforts, and the drive of those surrounding me all contributed to why I survived. Neuroblastoma has a small survival rate, so I'm grateful for all the hard work and effort that doctors, nurses, and researchers all put in to give me a chance to fight for my life. Because I was given this opportunity, I want to pay it forward. My goal is to raise money for research in neuroblastoma and find ways to give kids those same opportunities that doctors had given me, but with greater optimism. Hopefully, in the future, neuroblastoma will no longer be a difficult cancer to beat. No child should need to endure the pain of cancer, which unfortunately kids like myself have had to go through. But if diagnosed, I want to make that fight easier for them.
CHLA is home to the New Approaches to Neuroblastoma Therapy (NANT) multi-institute research consortium, which develops clinical trials and brings a "bench-to-bedside" approach to care. NANT is the only consortium in the world solely dedicated to developing new treatments and biomarkers through early clinical trials (Phase I and II) for neuroblastoma. Ultimately, the goal is to facilitate translational research. Consortium leadership is composed of an integrated team of translational investigators—together with NANT's proven infrastructure and the expertise of member sites, CHLA team members can continue to foster academic, federal and industry collaborations that accelerate transition of our novel approaches to randomized international trials.
Because of everyone's efforts, I was given the opportunity to live my life fully, and I strive to do that every day. The cancer treatments I used, however, created late side effects that I deal with on a daily basis. Although one of the main late side effects I've gotten is severe hearing loss, I didn't let this stop me when I decided to learn to play the violin. Now, I am concertmaster at my school's orchestra and have made it into the Pasadena Youth Philharmonic. I'm determined to put my skill to good use and raise money for childhood cancer research, as a way to give back and say "Thank you."
Besides music, I enjoy running as well. I have run two half marathons. I like math, have two siblings, and aspire to be a doctor in the oncology or radiology field.
Help support my fundraising efforts with a donation to Children's Hospital Los Angeles. Your tax-deductible gift will make a difference in the lives of many young patients and their families. Any amount, great or small, will be greatly appreciated and will help us create hope and build healthier futures for the families of Southern California and beyond. Thank you!
I hope you can donate. Any amount is appreciated and greatly helps! :)
Zen
View More