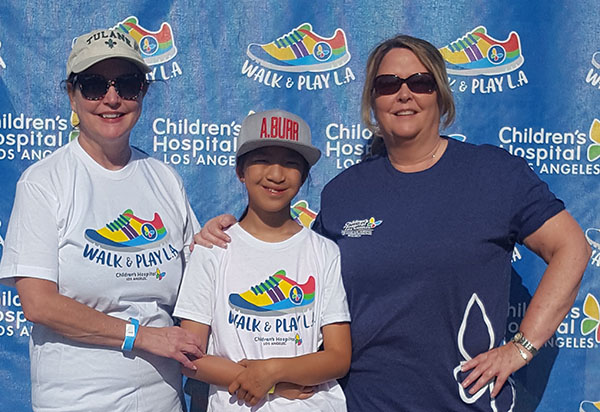 What are you raising money for this year?
"This year I'm excited to be walking with my 13-year-old daughter, Jia, and members of her synchronized ice-skating team to raise vital, unrestricted funds for Children's Hospital Los Angeles. We call ourselves the LA Synchro Skaters Walk and Play!"
You first got involved with Walk and Play L.A. in 2017. What has kept you coming back every year?
"That's right. Jia and I have participated in every Walk and Play L.A. since the event launched five years ago. We just have so much fun, and knowing we are raising money to benefit other CHLA patients and families makes it even better.
Jia has been a patient in the Division of Plastic and Maxillofacial Surgery at CHLA since she was 17 months old. The individualized, family-centered care we have received throughout her life inspires us to continue supporting CHLA.
As I think back, CHLA walks have been a tradition for Jia and me since she was a toddler. In April 2011, I pushed 3-year-old Jia in a stroller in the "Turn on the Lights!" Walk for Kids to commemorate the opening of the hospital's Marion and John E. Anderson Pavilion. Simply put, we are forever grateful for CHLA, and that is what keeps us coming back."
What are you most excited about for this year's virtual event?
"Last year during the COVID-19 pandemic, Jia and I formed a virtual Walk and Play L.A. team—just the two of us—and walked from the Manhattan Beach Pier to the Hermosa Beach Pier. This year we plan to do the same route, but it will be even more fun with the LA Synchro Skaters!"